The Northern Grain Growers Association is a "farm grown" organization that started in 2004 and now has over 60 members including growers, malsters, bakers, food system enthusiasts, food business owners, distributors and more! We focus on plant breeding, organic seed saving, variety improvement, and broadly all aspects of grain production – conventional, organic, and in between.
---
2021 Conferences & Events:



2021 Grain Growers Conference – Out of the Box Webinar Series
In a year like no other, the Northern Grain Growers Association and the University of Vermont Extension Northwest Crops and Soils Program are bringing the Grain Growers Conference to you!  Three virtual programs are being offered, over the course of three weeks, with a series of videos, presentations, and even hands-on activities, each highlighting a specific grain crop in the Northeast.  Sign up for a single  program or all three! They will start March 23 and end April 9.
Please view the Grain Growers Conference brochure for all the details and speaker bios. You can also view the the Grain Growers Conference web page for all the conference details.
Register online  –  click here!
Or you can call UVM's Non-Credit Registrar's Office, 802-656-8407.
Northeast Cover Crops Council's Conference
This will be the NECCC's first-ever virtual conference – on March 4, 2021.
View the conference link for details as they are posted – http://northeastcovercrops.com/2021-conference/. There will be a Video contest (information on link now) and a virtual Poster Session.
2021 Online Dairy Education Series
Join us for an exciting two week online learning series covering a diversity of dairy-related topics from forage production to bedded packs to alternative milking frequencies. You'll hear from researchers, local farmers, and agricultural professionals sharing the latest research and experiences from the field. View the detailed brochure here.
These are Free meetings using the Zoom online platform. We do require pre-registration – https://onlinedairyeducationseries.eventbrite.com
Following are the six event topics and speakers. Join us for all one or all of them! NOTE: You must preregister by March 8 for the March 10 Evaluating Sensory Properties of Dairy Products event, which is an interactive event that we will email you a list of materials for.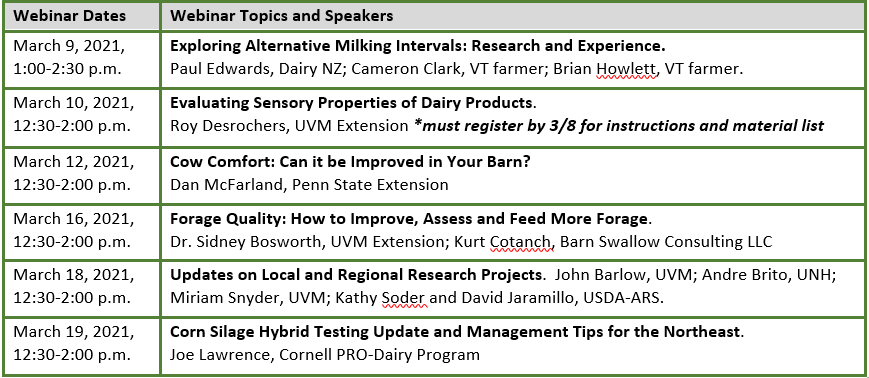 ---
News:
Northeast Dry Bean Production Guide Now Available
Thanks to a grant from Northeast SARE, we have developed a guide on growing, harvesting, and storing dry beans for Northeast growing conditions. See the guide at: https://www.uvm.edu/sites/default/files/media/NEDryBeanProductionGuide2016.pdf 
Remembering Jack Lazor
Click here to learn about donating to the Northern Flint Corn Consortium in honor of Jack. The primary goal of the Northern Flint Corn Consortium is to help increase food production among Indigenous people and to help them find ways to sustain it.  Education of students, participatory learning with the public, new connections, and new seeds for those who desire them.